Image
Ready to Go
Your new 'go-to' portable payment device featuring a large color display, GEO location capabilities, NFC and EMV payment acceptance, the V210 gets the job done. And, with connectivity options from 4G LTE to Wi-Fi to Bluetooth®, your business is good to go!
Image
Ready to Grow
A part of Verifone's Engage family, the V210 opens the door to new revenue-generating features. Boasting the latest Linux-based OS and modern application framework, this powerful portable provides the latest in next-gen features, functionality and commerce capabilities.
Image
Grow as You Go
Add Verifone Cloud Services to your business and harness the power of unified commerce. Proactively manage your payment devices and software, venture into the online space with eCommerce solutions, and more.
Any payment. Any scenario. Always connected.
Select powerful options from Verifone's Cloud Services to create your omnichannel ecosystem.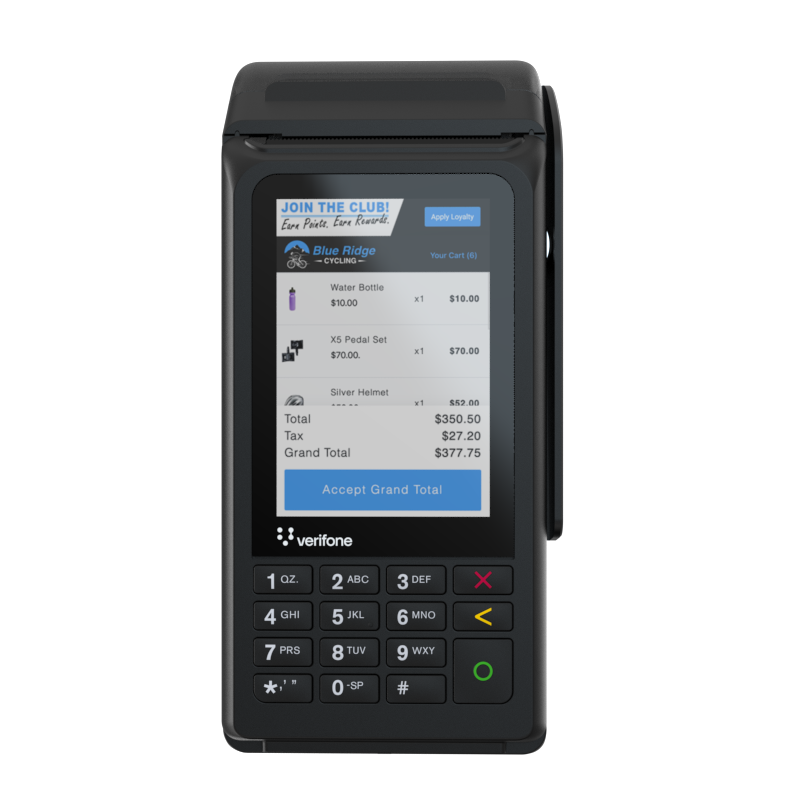 Always Up and Running
Wi-Fi & Bluetooth enabled
Used by merchants across industries
Are you ready for a new V210?
We will set you up.
Explore Other Portables and Transportables Devices
Do you need help choosing the right device?
Good consultation takes time. Our team will happily discuss your needs so you can confidently choose the right device for your business.
Frequently Asked Questions
Image
What are the key features of the Verifone V210?

The Verifone V210 offers several key features, including a high-resolution color touchscreen display, built-in NFC/contactless capabilities and support for a wide range of payment options, such as EMV chip cards and mobile wallets. It also integrates seamlessly with existing POS systems and can handle value-added services like loyalty programs and gift card processing.

How does the Verifone V210 enhance payment security?

The Verifone V210 prioritizes payment security with advanced encryption and authentication technologies. It is PCI PTS 5.x certified, ensuring compliance with industry standards for secure payment processing. The device employs point-to-point encryption (P2PE) to protect sensitive payment data, reducing the risk of data breaches and fraud.

Can the Verifone V10 be customized for specific business needs?

Yes, the Verifone V210 is highly customizable to meet specific business requirements. It supports flexible software configurations and can be tailored to integrate with various POS systems and third-party applications. This flexibility enables businesses to optimize the device's functionality and adapt it to their specific payment processing workflows.

Where can I read about the warranty on Verifone devices?
Device Specifications
It's Verifone. It's safe.
V210
The 'go-to' and cost-effective portable solution
Features
Bluetooth® 4.1 Low Energy

3.5" Screen

V/OS2 (Linux Based) + ADK

Arm Cortex-A9, 32-bit RISC

PCI PTS 6.x Approved
Connecting Commerce
Self-Service Onboarding

A more convenient way to order and track the status of your new Verifone products.

Device Management

Increase ROI and create exceptional customer experiences with a well-managed estate.

Pay-by-Link

A simple payment link you can customize to share with shoppers via SMS or email.
What are you waiting for?
We're here to help you grow your business.