Image
Purpose-Built for Multi-Purpose
The C18 can be used as a cashier-facing POS and a customer-facing self-checkout kiosk. Serve your customers efficiently with a tap or flip of the screen, depending on your business demands. 
Image
Simple Setup and Smooth Integration
The C18 is a plug and play POS, engineered for easy out-of-the-box installation and integration. It smoothly connects to your Commander, accessories and other system components for seamless operations.
Image
Versatile and Robust
The flexible screen of this user-friendly device measures 18.5 inches and can be easily rotated between landscape and portrait orientations to perfectly fit any counter space you have. It's designed to be durable and reliable in any environment.
Engaging, efficient, profitable.
Purpose-designed solutions to upgrade the customer experience, increase speed of service & boost your bottom line.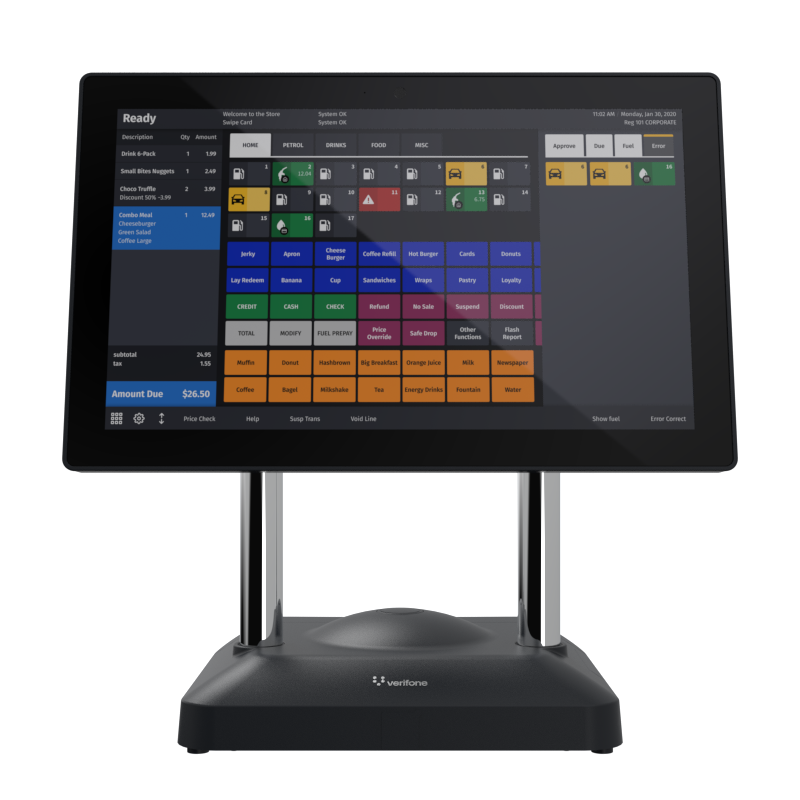 Easy on the Eyes
Sleek, rugged and low-profile

Vibrant and engaging with intuitive UI
Made for Frictionless Experiences
Reduce wait times for faster checkouts

Swap between self-service or cashier-facing POS
Functionalities to Grow with Your Business
Secure Payment Acceptance
Are you ready for a new C18?
We'll help you get started.
Explore Other Devices
Verifone Commander Site Controller

All-in-one solution for Convenience Retailers.

4GB DDR2 SDRAM, scalable to 32GB
Secure real-time Linux
2.10 GHZ
Intel Core ie-2310E CPU

Compare
Do you need help choosing the right solution?
Good consultation takes time. Our team will happily discuss your needs so you can confidently choose the right solution for your business.
Frequently Asked Questions
Image
What is the Verifone C18?

The C18 is a comprehensive POS solution for convenience retail & petroleum. It combines hardware and software to provide a seamless and secure point-of-sale experience for businesses, and is designed to handle payments without the
need to recertify existing POS applications.

What are the key features of the Verifone C18 Integrated POS solution?

C18 smoothly integrates with other system components and peripherals. The system architecture is designed to handle payments without the need to recertify existing POS applications. C18's built-in hardware diagnostics consisting of a "Soft Reset" that allows for a graceful recovery from a system problem.

How does the Verifone C18 solution help businesses streamline their operations?

The intuitive touchscreen display of the C18 enable businesses to process transactions swiftly, reducing waiting times and improving customer satisfaction. Additionally, pallets can be customized for fuel, operations, video security and other utilities that site attendants need to track. At a quick glance, monitor fuel states including pump calling, authorization, dispensing, stop and others that pertain to fuel operations.
Device Specifications
It's Verifone. It's safe.
C18
Versatile POS solutions for countertops
Features
18.5" Screen

4GB DDR2 SDRAM, scalable to 32GB

Linux | Windows

7th Generation Intel Celeron
End-to-End Solution
Verifone BackOffice

Verifone BackOffice is a powerful new cloud-based store management solution designed specifically for convenience and petroleum retailers, with out-of-the-box integrations that retailers want, including integration with Altria's Digital and Data Programs

Site Controllers

A versatile site management solution providing increased speed in payment acceptance, fueling operations and back-office store control.

Foodservice Solutions

Our robust foodservice offering allows your customers to place an order online or through an interactive kiosk in-store.
What are you waiting for?
We're here to help you grow your business.