Image
Secure and Flexible Self-Service Device
Secure and flexible Android payment device connected to Verifone Cloud Services for customization and estate management.
Image
Easy Integration to Existing and New POS Hosts
Designed to easily integrate into existing environments and compatible with many POS host protocols.
Image
Top-Level Protection
Weatherproof enclosure provides top-level protection against dust, liquids and other harmful substances, withstanding IP65.
Any payment. Any use case. Always connected.
Powerful enough to stand alone, stylish enough to place on the counter.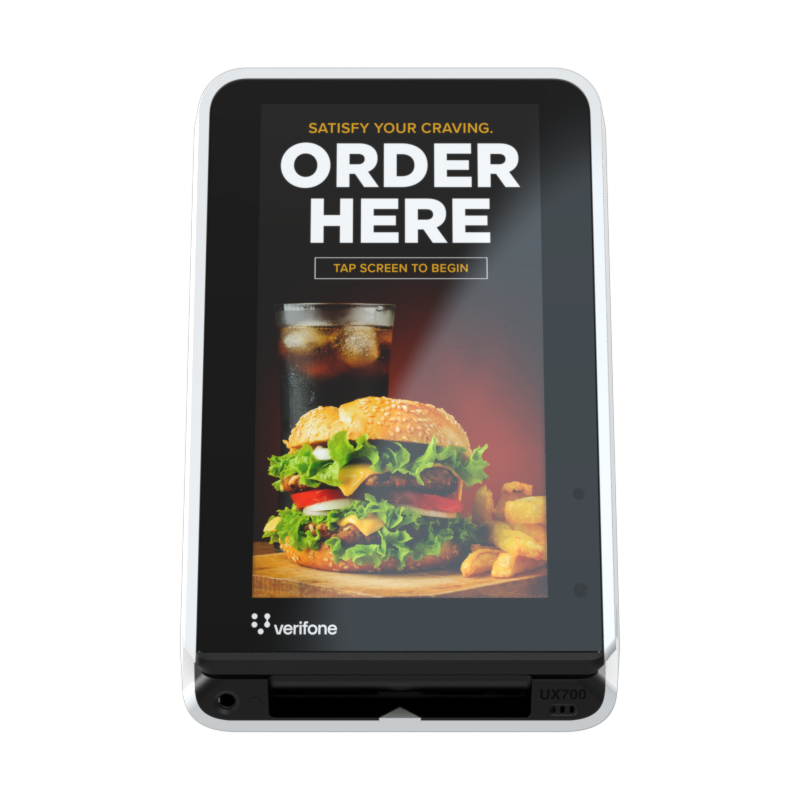 Scale Your Business
Secure Payment Acceptance
Drive Revenue and Enrich Customer Experiences
Estate Management and Analytics
Robust and Versatile
Perfect for Petro and Vending
Used By Merchants Across Industries
Are you ready for a new UX700?
We'll help you get started.
Do you need help choosing the right device?
Good consultation takes time. Our team will happily discuss your needs so you can confidently choose the right device for your business.
Frequently Asked Questions
Image
What is the use case for UX700?

UX700 is an advanced payment terminal designed for secure and convenient payment processing, either unattended or attended. It combines a sleek design with a user-friendly interface, making it an ideal choice for businesses in various industries.

What payment methods does UX700 support?

UX700 supports a wide range of payment methods, including chip and PIN, contactless (NFC) payments, magnetic stripe cards and mobile wallet payments, such as Apple Pay and Google Pay.

What security features does UX700 have?

Security is a top priority for Verifone. The UX700 is equipped with advanced security features, including end-to-end encryption, secure PIN entry and EMV compliance. It helps protect sensitive customer data and ensures secure transactions.

Does UX700 integrate with my existing point-of-sale (POS) system?

Yes, the Verifone UX700 is designed to seamlessly integrate with a variety of point-of-sale systems. It can communicate with your POS software, allowing for easy integration and streamlined operations.

How durable is UX700?

UX700 is built with durability in mind. Its tamper-resistant design features an anti-vandalism enclosure that can withstand an impact of up to five Joules. This ensures that the terminal can handle everyday use in various environments without compromising its functionality. Additionally, the Verifone UX700 is equipped with a weatherproof enclosure, offering top-level protection against dust, liquids and other harmful substances. It is designed to withstand the IP65 standard, making it highly resistant to water, dust and other environmental factors.

What service options are available for the Verifone UX700?

UX700 is powered by Verifone Cloud Services allowing for omnichannel experience, advanced reporting and diagnostic tools.

How do I get started with UX700?

To get started with UX700, simply contact our sales team and they will guide you through the process. They will assist you in selecting the right configuration for your business needs and provide you with all the necessary information to begin using the terminal seamlessly.
Device specifications
All-in-one unattended Android device
UX700
Best-in-class at everything it does
Features
Bluetooth® v4.2

5.0" Screen

Operating Temperature: -30° to 70° C (-22° to 158° F)

PCI PTS 6.x Approved
End-to-End Solutions
Fraud Management

Stay protected against malevolent actors and proactive in the face of an ever-changing regulatory landscape.

Gateways

Use our secure-transaction processing solution to deliver fast and scalable payments.

Device Management

Ensure your payment devices are always ready to support your business.
What are you waiting for?
We're here to help you grow your business.