Image
Brand Building
Bring color to your business with a PIN pad that emboldens your brand with a dazzling touchscreen display.
Image
Promote, Cross-Sell,and Upsell
With its full-color multimedia support, the P400 is ideal for video or images to showcase promotions, offers and loyalty programs.
Image
Investment Protection
Boasting a powerful Linux-based OS, an ultra-fast processor, ample memory and best-in-class security, the P400 is future-ready.
Any payment. Any scenario. Always connected.
Select from our Cloud Services solutions to grow your customer base and business.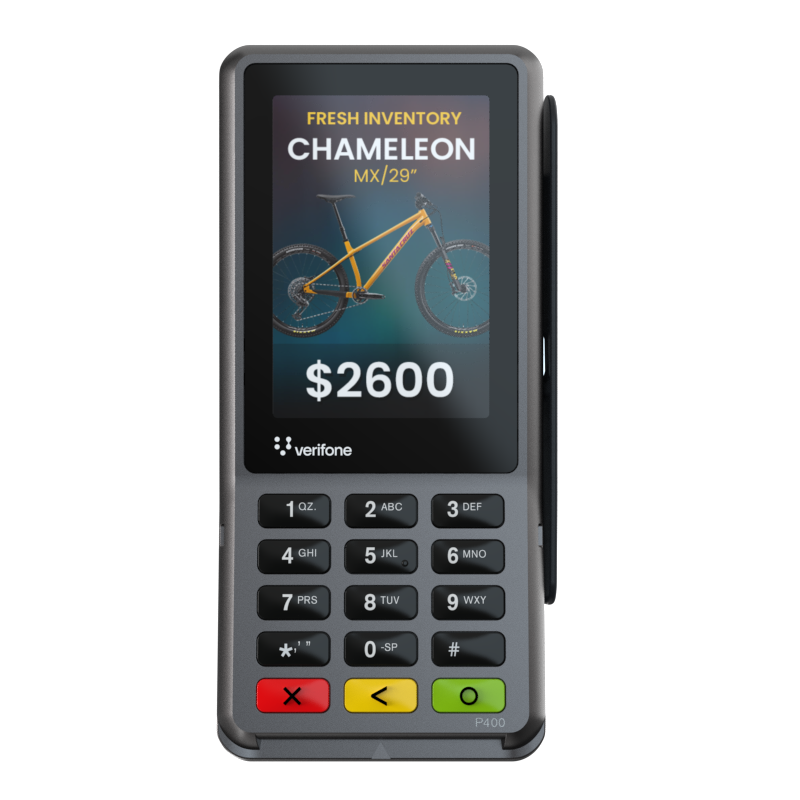 Powerful Device
Rich Multimedia Capabilities
Secure Payment Transactions
Trusted By Merchants Across Industries
Are you ready for a new P400?
We can help you get started.
Do you need help choosing the right device?
Good consultation takes time. Our team will happily discuss your needs so you can confidently choose the right device for your business.
Frequently Asked Questions
Image
What payment methods does the P400 support?

The P400 supports a wide range of payment methods, including EMV chip cards, contactless payments (such as NFC), and traditional magnetic stripe cards. It enables merchants to accept various forms of payment from their customers.

I had fraud-related challenges. Are there any solutions to protect my business against such risks?

Yes, the P400 incorporates multiple security features to protect sensitive cardholder data. It supports end-to-end encryption, EMV compliance for chip card transactions, and adheres to industry standards to ensure secure payment processing.

I only need a few devices for my businesses. Is there an easy way to order a small quantity online and configured for my business?

Yes, there is! Our Self-Service Onboarding experience is a streamlined and user-friendly interface that simplifies the order placement process from start to finish. And, with 24/7 order processing, it's convenient to order the products and services you need and track them to delivery.

What are your offerings for an omnichannel business?

We have omni covered - soup to nuts! With the software, hardware, and services you need to conduct business seamlessly across all your platforms, check out our Omnichannel. Want to discuss your plans more in-depth? Contact our sales experts - they will help you build a cohesive omnichannel plan.
Device Specifications
It's Verifone. It's Safe.
P400
A premium PIN pad that provides greater engagement and better returns
Features
3.5" Screen

ARM 32-bit RISC

PCI PTS 5.x Approved
Connecting Commerce
Device Management

Complete end-to-end estate management.

Device Services

Keep your business up and running at its peak.

Tokenization

Enable smooth checkouts for repeat customers.
What are you waiting for?
We're here to help you grow your business.